Fenphedra is a diet supplement that aims to assist women to lose unwanted weight. This diet drug is said to be a "chemically altered diet pill." But strangely enough, the official website does not reveal who manufactures Fenphedra, nor does it state when Fenphedra was first manufactured.
 Fenphedra is marketed through the official website for $69.99 for 69 capsules. There are a few customer testimonials displayed on the official site. However, Fenphedra is sold with a money-back guarantee, as long as the bottle has not been opened and the seal remained broken. Like most diet pills, Fenphedra is supposed to be taken daily with water.
 Some of the primary active ingredients offered in Fenphedra are DiCaffeine Malate (malic acid and all-natural caffeine), Chocamine TM (cocoa plant extract), Phenylethylamine (chocolate extract), Synephrine HCI (boosts energy, burns fat and curbs hunger) and Humulus Lupus (plant extract that calms).
 The official website for Fenphedra does not address any particular diet plan or fitness regimen and there are no free trial samples of Fenphedra offered through the official website. Like many other weight loss supplements, Fenphedra attempts to assist weightloss seekers to burn fat, suppress appetite and increase energy levels. Users are advised to take 1 capsule of Fenphedra half an hour before breakfast and lunch.
 Full list of Ingredients
Not available on the official website.
 Advantages
·        Fenphedra can be easily  purchased through the official website.
·        There are a handful of customer testimonials posted on the official website.
·        Fenphedra comes in an easy-to-take capsule form.
 Disadvantages
·        There are no free trial samples of Fenphedra offered through the official website.
·        Some ingredients found in Fenphedra diet pills may not be suitable for some individuals. Side-effects include nausea, indigestion, gastric irriration and palpitation since the product contains an overdose of caffeine.
·        There is no background information on the company that manufactures Fenphedra diet supplements on the official product website.
·        The 100% money-back guarantee posted on the official website only applies to those who never open the Fenphedra container, making it impossible for those who try the product and are not satisfied to return their merchandise.
·        Total ingredient list for Fenphedra is not provided on the website.
·        Fenphedra is geared  towards women and not men.
 Conclusion
 While Fenphedra does offer some unique active ingredients, the fact that there is not much company background information supplied on the official website may raise questions in the mind of users. Obviously, it would be nice to see some real clinical research data  posted on the official website, along with a real money-back guarantee (without stipulations about opening the product) and a full ingredient list for Fenphedra.
 Our recommendation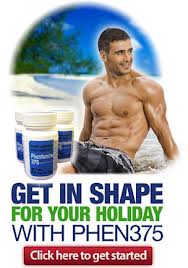 We recommend another diet pill in place of Fenphedra because of the doubts it raises in the mind of any potential customer thanks to their tendencies to keep things in a shroud of secrecy. Phen375, on the other hand, is a very well-known fat burner used my millions of weight loss seekers worldwide to shed extra pounds and to top it all, it is a 100% safe weight loss supplement that delivers. Learn more about this supplement by reading the Phen375 reviews or, if you have already made up your mind,visit the Phen375 Official Website to buy this fantastic product.